Cairo never sleeps. I could experience it on my way from airport to hotel, catched by massive traffic jam at 11pm. In the morning I could sense typical arabic metropoly like Casablanca but raised to the power. Constant honking of car horns, smoky diesel engines and blazing hot got me tired from the beginning of a day.
The oldest part of city was even more overwhelming. Dense of street bargains, pedestrians, street chaos mixed with prayers in a distance. Guided by my hosts I could see places where foreigners do not come, and taste local food in kind of restaurant I would not enter due to hygiene standards. They knew however that this was just deceiptive appearance. The lamb meat was amazingly tasteful and did not cause any digestive problems afterwards.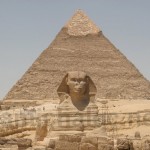 Having only part of a day of free time I managed to go to one of seven wonders of the world, pyramides and the sphinx. I took me 3 hours in taxi in total; 15 km distance from Heliopolis district to giza and back again cannot be made faster during a day. Giza impressed me in two ways. First and obvious were the monuments of ancient history I could feel with all senses. The other impression was impertinence of pesky pseudo-guides wangling the money in dozen ways distracting any attempt to contemplate surrounding. The Egypt would break their economy stagnacy exporting these people to direct sales positions; I bet they would multiply income in any industry :] Finally I agreed to use horse-drawn cab to stop constant disturbance. 15 minutes hard negotiation saved 2/3 of initial irrational price.
Short on free time I could not taste Cairo that much. On the other hand sharing time with locals helped me to understand their situation from their perspective. I believe you have heard about the peaceful revolution that started in January 2011 when Egypt rised up to get rid of Mubarak? But did you know, that it was not by accident, that they avoided violent fights and massive blood spill so typical for revolutions? In fact this process was meticulously planned several months before it happened, they told me! In 2009-2010, group of uprise animators was trained in Serbia by the same people that bailed Milosevic out in Bulldozer Revolution. These groups spent together couple months working out strategy to win in non violant way. They fought with Mubarak consequently discrediting his line of defense, making lough of him to keep people focused on problems. They planned posters, slogans and deployed animators coordinated across protestor groups. They synchronized protest gathering time with prayers in Mosques, to minimize chances of arrest and maximize number of protestors attracted by animators and many more. Kudos for Egyptians for this well done job!