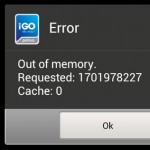 iGO Primo navigation software surprised me right at the moment I needed it badly. As always I forgot to upload maps, etc, before travel, so, as usual, I did it at the hotel googling for solution. Visiting Singapore was not different, this time though after uploading extra content iGO choked with "Out of memory. Requested 1701978227 Cache: 0" error. Rolling changes back did not help either. An hour struggle and I caught offender red handed. 
Most people complaining with this error are having fresh setup of iGO. For me it was stable for months so I was puzzled long minutes without googling answer out. I started "divide and conquer", copying whole software without content. It was working. Then adding maps. Still good. And finally adding Singapore content, to get this nasty unrecoverable error. Unrecoverable because I could not "see" problem that can be undone. As soon as I have used "adb shell" to get inside Android I swore badly seeing this:
255

|ViperX@/mnt/sdcard/iGO.bak/license# ls -la
----rwxr-x system sdcard_rw 

4096

 

2013

-

12

-08 

10

:

37

 ._MFM_SEA_Singapore.lyc
----rwxr-x system sdcard_rw 

1544

 

2012

-07-

12

 

15

:

17

 Android_Primo.lyc
...
Thank you Apple for dumb fu**ing Finder that has left dot-underscore trash behind, an invalid license file. Let me also admit that iGO developers are also lazy dumb asses parsing blindly .lyc files that may have wrong content; instead of some double-check (file size in header structure of file with CRC applied) it chokes on garbage.
To summarize, if you see "Out of memory. Requested 1701978227 Cache: 0" look for corrupted license files or hidden files with .lyc extensions that may be wrongly parsed by iGO and delete them.