I should call it Singa-pour, the whole sky is gray, skyscrapers tops are hidden in clouds and the wall of rain outside keeps the same pace for last couple hours. At day zero, which was yesterday night when I arrived, it was hot and humid but surfaces were dry with no marks of water. This morning was still dry, hazy but sun light trying to reach pedestrian's faces. I even started regretting I have left my skate boots at home.

I needed to recover from jetlag so I got my breakfast quite late at 09:30am (which translates into 02:30am at home). Still little dizzy I realized after breakfast I forgot to load maps for GPS software which stopped me at the hotel for next 2 hours. After fixing it I started afternoon route planning suddenly realizing rain has come. Damn, keeping umbrella and taking shots ain't fun. I could not use storm-jacket at 30 centigrades and 90% humidity, yet I have ordinary lense for DSLR, not waterproof. The only homework I did before travel was picking the right hotel – a place close to all potential locations which I had no idea where they are. So I booked a hotel next to Dhoby Ghaut station that is connecting three metro lines.
From top of my head (err… ok, from the google map) I have seen the Little India is in walking distance, and Chinatown is just 2 metro stops away. The Pinnacle@Duxtong rooftop viewpoint was on the track, but the rainfall made it pointless.
When I got the first place I was confused by streets full of hindu selling anything they could, crowded at every possible dry place like entrance to metro station. And having just a screenshot of map (GPS could not get a fix through dense buildings and heavy rain running first time on the other side of the Earth) I missed damn Sri Veeramakaliamman temple. To my surprise I got a smaller Indian temple in Chinatown (sic!). I was not in sightseeing mood anymore, however I wanted to give a try to some seafood places I noted down based on my colegues' hints. While main streets had planty of places with waiters tackling pedestriants, I was heading firmly to Keong Saik Road that was silent and lacking of people.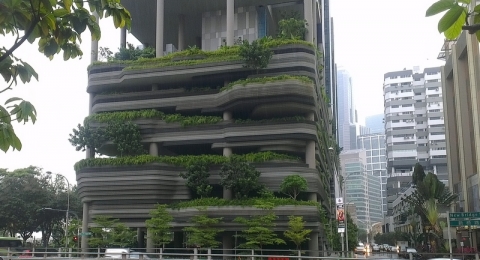 My seafood place was closed, damn again. The sea(fast)food oposite side of the street served a dish with moderate taste, but I would not complain as it fits to experiments category. Later I will agree with my digestive system on final opinion. Chances on more successful wandering in next couple days is miserable; I am at the office till evening every working day. Maybe next weekend will be more successuful before catching damn-economy return flight. I hope damn-weather will get better…