While reviewing ownCloud features, to get better view on its pros and cons, I realized that sharing feature has one serious drawback. To share a file or a folder you hover over it, click "share" and configure all details. The issue is that there is no single view of all shares, if you forget what actually you are sharing you need to browse through hierarchy of folders and check their status one by one. To solve this problem I made up simple plugin that gives single view of resources to unshare.
What that application does is rendering of simple list of files and folders that are shared by currently logged in user. For each file full path is visible (clicking on it jumps into its parent directory to allow sharing reconfiguration), expiration settings and "x" button for quick unshare. This is it.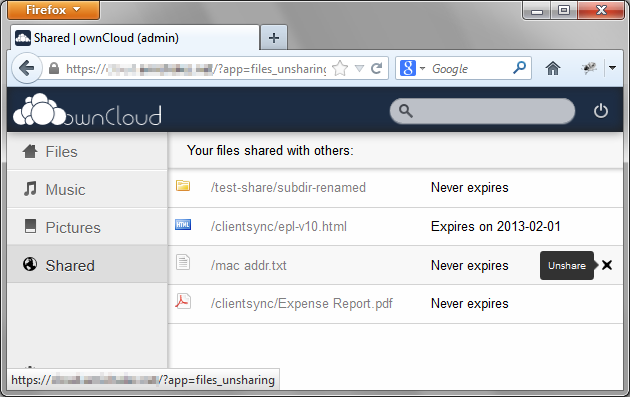 What you need to do is to download package (compatible with for ownCloud 4.5.x) unpack files_unsharing into owncloud/apps folder, and enable application in settings/admin section. After that operation additional left-side menu should appear. If you want your localized version (except for Polish and English), go to owncloud/apps/files_unsharing/l10n and copy pl.php file into new one with name based on desired language acronym (e.g. de.php for German) then open it and translate labels as you wish.
Disclaimer: this is version 0.1 which means it is very trivial in behavior and imperfect from development perspective; I am neither webmaster, PHP geek nor ownCloud contributor. As I feel more confident in coding so that part is much better than visual approach :] E.g. this plugin depends on core API (OCP\Share and other PHP classes) instead of direct database queries while HTML/CSS part is shameful, works though.
Download: owncloud-unsharing-v0.1.tar.gz