Thinking of recent business travel to Slovak Republic, southern neighbors, I still have in my mind long hours spent in the night at the hotel trying to reduce backlog. During day time I had not time to enjoy amazingly beautiful downtown near the hotel I was staying in. With that introduction, how can I make another travel log entry if I neither got photos nor discoveries? I made up bizarre title which in fact makes a lot sense to urban skaters. Still curious?
Bratislava, this is easy part: capitol of Slovakia, where I was facilitating  worklight v5.0 mobile technology implementation training. As I am not day-to-day Java Script developer, I had hard time fixing some mysterious problems with dojotoolkit. Staying just five minutes away from oldest part of city, I barely had time to see it (on the other hand it is a reason good enough to get back and delight its downtown). I was astonished by renovated town houses enlighten in the night with colorful reflectors, shiny sleek slabs of white stone as pavements, perfect for skating and sliding, and finally atmosphere of pubs everywhere full of locals and foreigners having good time.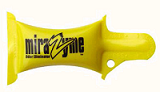 Mirazyme is my recent discovery in area of sport equipment hygiene. Despite I had no time for sightseeing I had to try out skating in Bratislava as I spotted a lot of flat sidewalks. By chance it was first time I tested my skate boots with miraculous enzymes (I guess the name of Mirazyme comes from) and it worked really well! I tried different anti-odor treatments with moderate effects. Mirazyme is a way to go especially for those who plan to get integrated boots (inner soft part attached to hard shell in one piece) like Powerslide Hardcore Evo or Seba Igor; in such case you cannot take out inner boot and clean it in wash mashine. Mirazyme is easy to apply: just dissolve in water, soak boots to saturate fabric and then dry out without rinsing, this is it! After workout, boots were completely wet as usual with a slight notion of sweat, perception similar to breathable sportswear using anti-bacterial silver ion threads! Really amazing.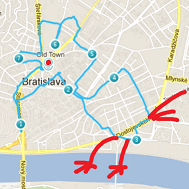 Chicken at last, was my first thought accompanied by a burst of laughing, when I saw the map of my workout in endomondo where the shape of my track in the Bratislava made up a … chicken (see aside). While the skate-art-work in blue was not intended, red parts are hand made expressions of my imagination 😛